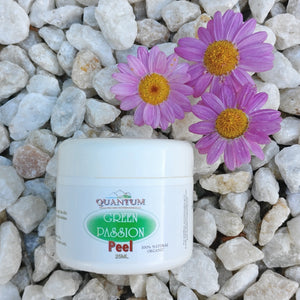 Green Passion Aqua Peel
Green Passion Aqua Peel encourages faster shedding of dead skin by loosening the bond between the cells in the deeper keratin layers of the skin to leave it fresh and smooth.
The removal of dead skin cells will significantly reduce the appearance of fine lines and wrinkles.
100% Natural
Fresh natural product, Chemical free
Made in Australia
Directions:
Spread evenly to face and neck ( avoid eye area ). Wait for 5 mins or until the skin begins to feel sensitive. Rinse thoroughly with water. Recommended to use before Green Passion Moisturiser.
If you experience any sign of 'red swelling' of the skin, rinse off thoroughly as your skin is too sensitive.
Keep out of sun and store in a cool dry place.
Eucalyptus: can be used to treat Asthma, speed up healing wounds, relieve Muscle Pain and treat fungal infections, healing skin irritation and insect bites, a natural antiseptic and an immune-boosting oil that is ideal for use on skin.
Ivy: can help in removing toxins, minimizing pain and infections of wounds, relieve irritations, may help boost blood circulation to enhance the effects of your hands-on healing and tighten the skin. It is also known for its ability to smooth and soften skin, and it is also reported to help relieve itchy skin conditions.
Carrot Seed: rich in carotene and vitamin A which are antioxidant. It also has antiseptic properties which can cure infections. It is a natural for any anti-aging skin formula, protecting your skin from environmental stressors.
Viola Tri Colour: can assist in treating skin disease, asthma, epilepsy and asthma. It has anti-inflammatory, antioxidant properties and providing a soothing action on the skin.
Juniper: has antiseptic properties which can assist in protecting and treating wounds, increasing your blood circulation and keep skin healthy and oxygenated, removing toxins from your body. It has the ability to balance oily skin and unclogs pores. It can also reduce puffiness and firm the appearance of skin.
Plus many more plant based ingredients.
---
We Also Recommend
---