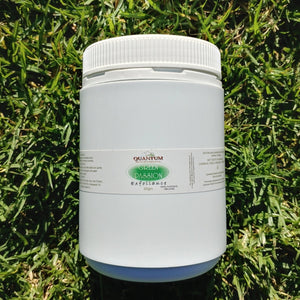 Green Passion Exfoliance - 1kg
Made from all natural ingredients, Green passion Exfoliance purifies the pores by loosening the skin cells surface with natural oatmeal granules and plant extracts, to gently absorb dead skin cells with the herbal, organic plant fiber filaments thus stimulating blood circulation leaving a youthful, glowing looking.
The organic extracts stimulate skin cell rejuvenation, smoothes fine lines on the face.
Recommended Use:
Apply to face and neck with wet hands, avoiding eye area. Gently scrub with fingers in circular movement over skin. Wash off with water thoroughly.
Recommended use 3 times a week.
Fresh natural product, Chemical free
Formulated in Switzerland
Made in Australia
Ginseng: can relieving stress, reducing inflammation, improve health of skin, relieve symptoms of aging, reduce wrinkles, acts as a whitener, giving the skin a brighter and more youthful appearance and encourage skin regeneration.
Geranium: Known to promote beautiful and radiant skin, treat acne, and reduce inflammation, effectively eliminate dead cells, tighten the skin, promote the regeneration of new skin, and diminish signs of aging.
Allantoin: can increase skin smoothness, assist in wound healing and moisturise your skin, is a natural affinity for the skin as an active moisturizing compound, encourages natural exfoliation in the skin's outer layer, softens skins and combats sun damage, calms skin as an anti-irritant with anti-inflammatory properties and reduces redness
Rose hip is renowned for its outstanding skin regeneration properties and for toning down scar tissue. It is Anti-bacterial, Anti-inflammation and can heal general infections. Contains vitamin C antioxidants which stimulate collagen production. It also helps reduce fine lines and wrinkles.
Grapeseed oil: Benefits comes from its vitamin E and omega 6 fatty acid. This includes: protection from environmental elements, moisturise skin, reduce signs of skin problems, lighten skin.
---
We Also Recommend
---